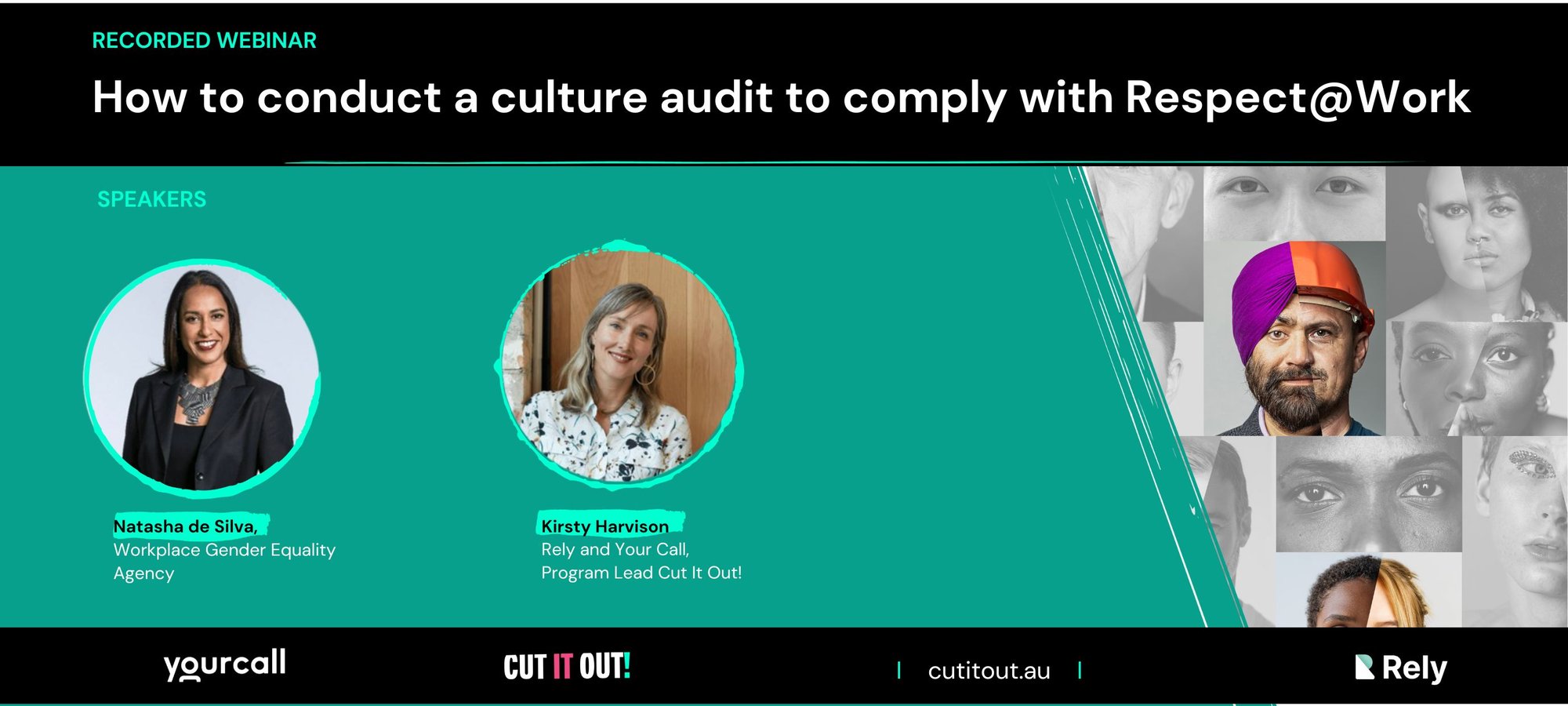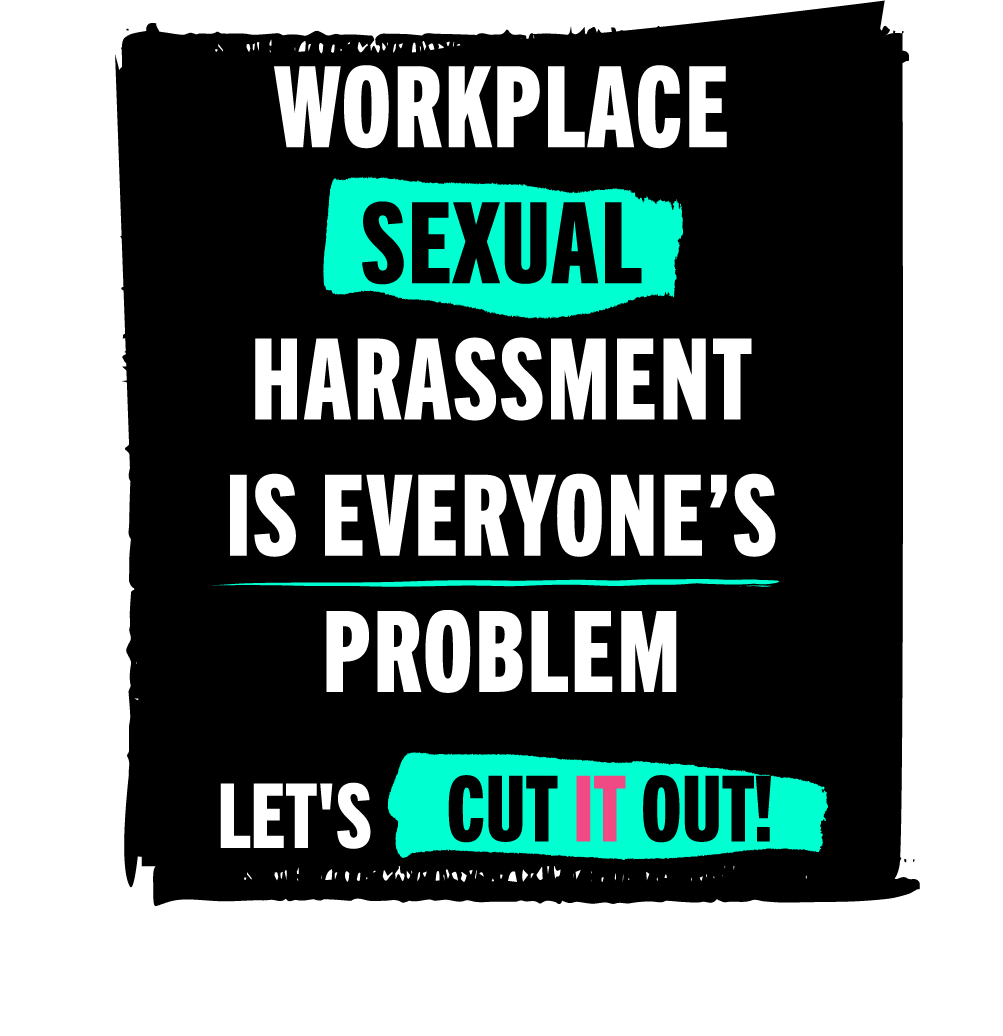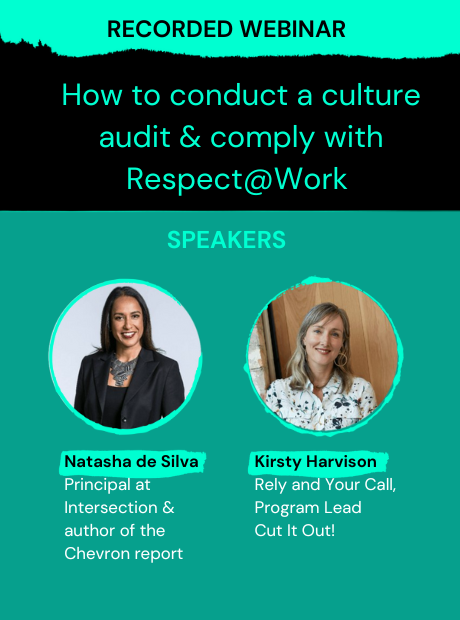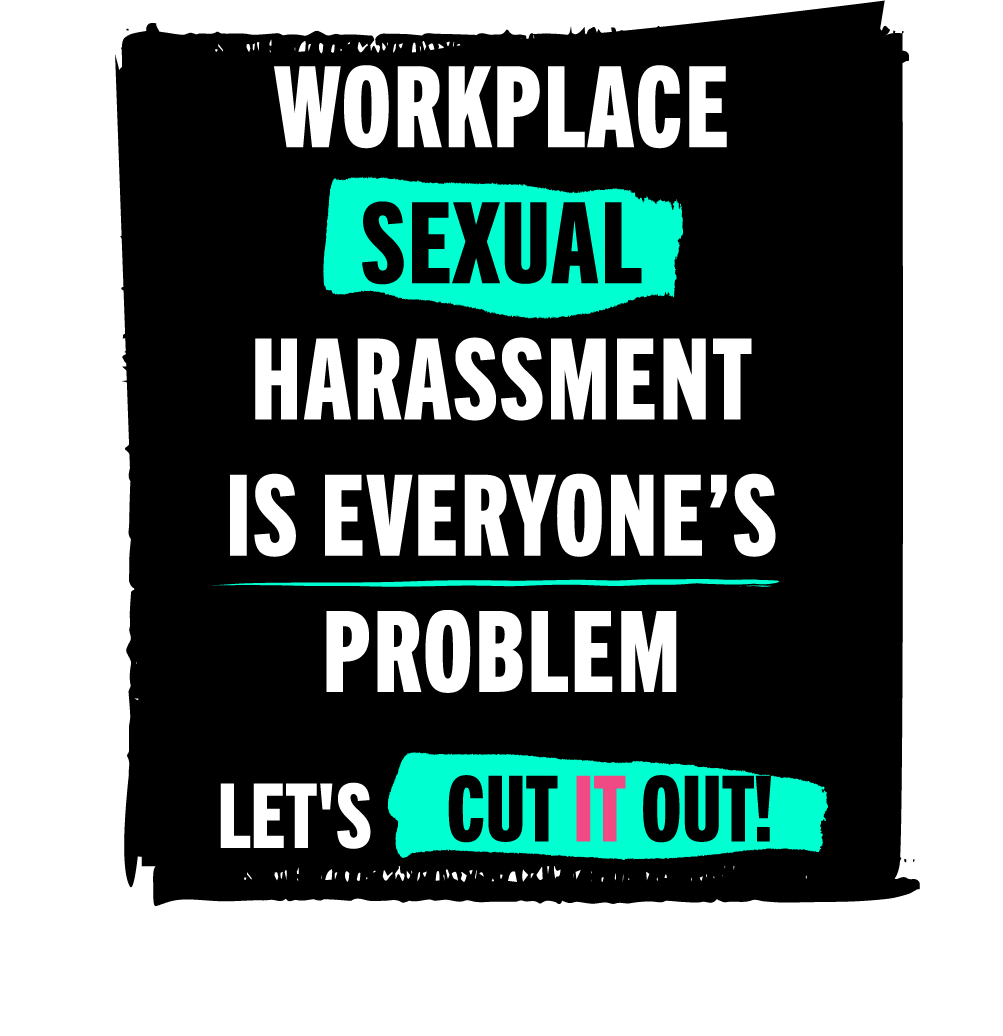 How to conduct a culture audit to comply with Respect@Work
Australia's Respect@Work laws require employers to take proactive steps to eliminate sexual harassment, sex-based discrimination and hostile work environments.
Watch Principal of Intersection and author of the Chevron report, Natasha de Silva, and Rely & Your Call's Senior Advisor, Kirsty Harvison, discuss:
How to conduct a cultural audit to identify the risk of sexual harassment & sex-based discrimination.

How to use reporting channels, data, metrics and reporting to demonstrate your positive duty towards eliminating sexual harassment, sex-based discrimination and hostile work environments.

How to get sexual harassment on the board agenda and gain support to build a safe, inclusive and respectful culture.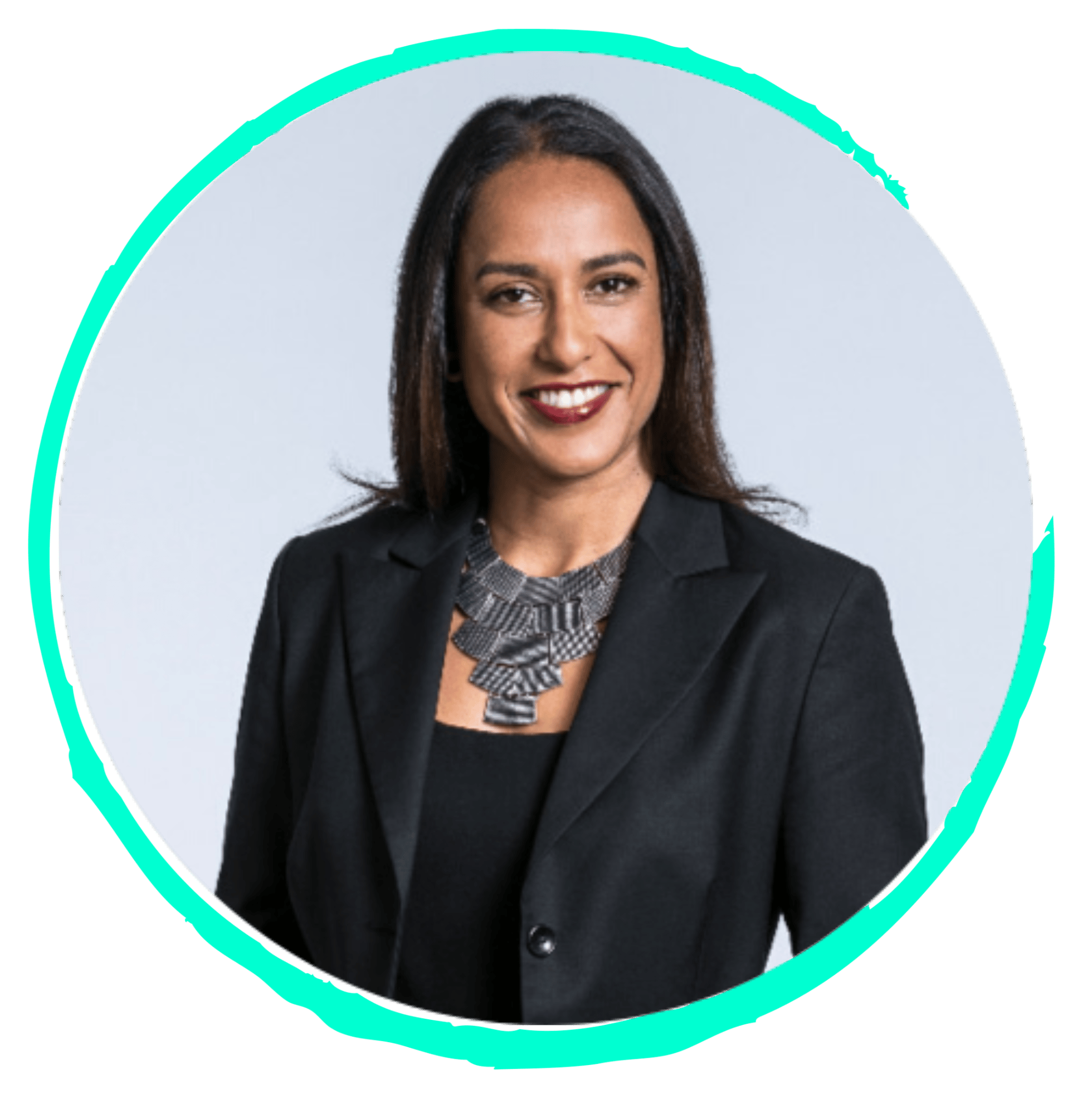 AUTHOR OF THE CHEVRON REPORT
Natasha de Silva
Principal, Intersection
Natasha is the Principal of Intersection, a consultancy specialising in human rights-based approaches in the workplace. She has an international and national profile as a human rights and gender equality expert, for over 20 years she has worked with governments and organisations, including the Australian Human Rights Commission, to build knowledge, technical capacity and develop leading, evidence based policy and practice. Her previous work includes the Set the Standard Report into Cwlth Parliamentary Workplaces (2021) and she led the Respect@Work national inquiry (2020).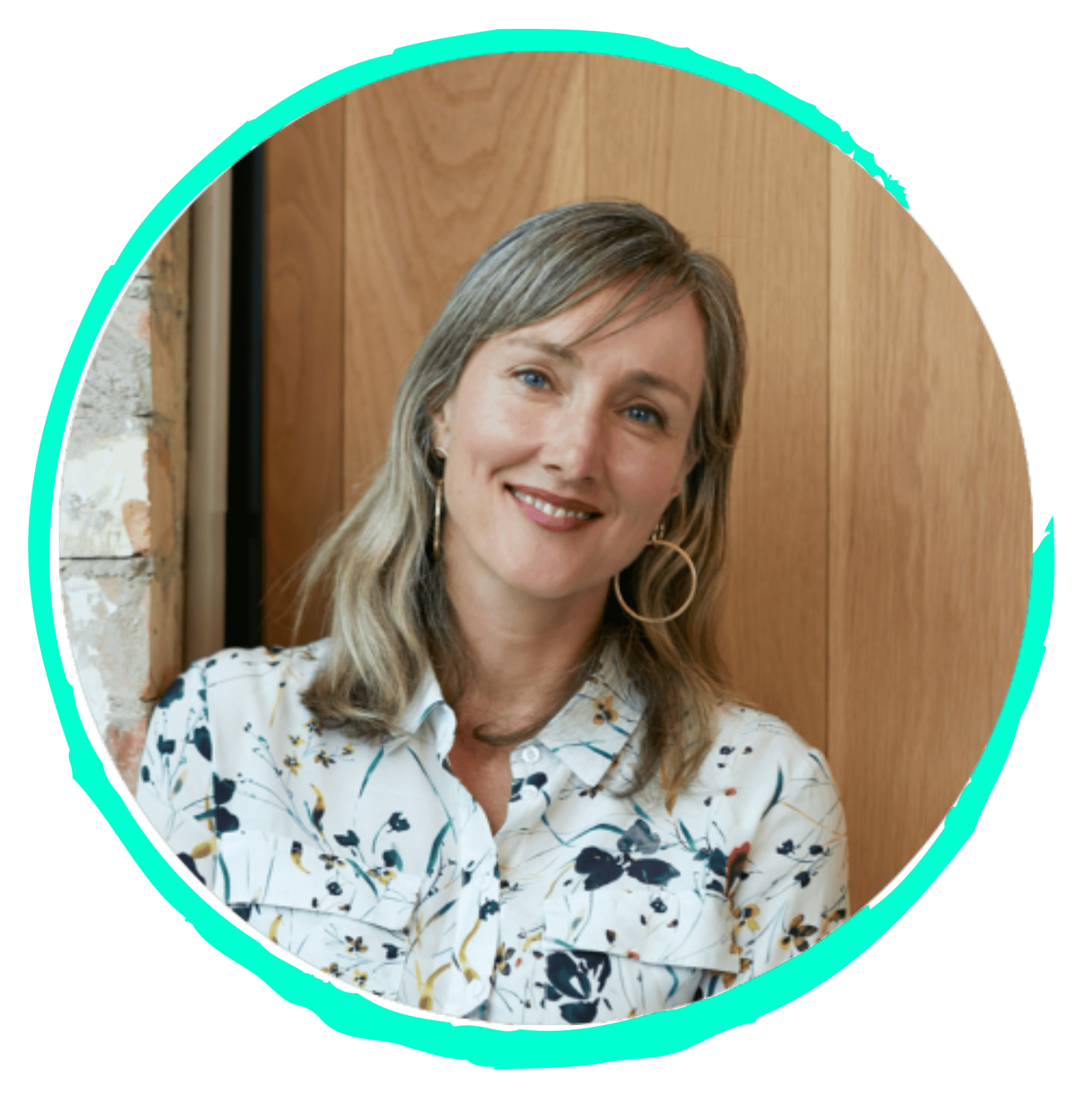 CUT IT OUT! PROGRAM LEAD
Kirsty Harvison
Senior Advisor, Rely & Your Call
Kirsty Harvison leads our Cut it Out! client engagements. Kirsty is a seasoned commercial lawyer and governance professional who has held executive roles and led the legal function for businesses across a wide range of industry sectors. She is a fellow of the Governance Institute of Australia and holds a Masters in Applied Positive Psychology from the University of Melbourne.